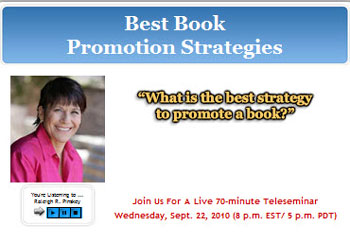 What is the best way to promote your book with the least amount of time, energy and money yet with the greatest return (book sales)?
From my years in publishing, there are many different answers to this question. Some people have found great success with one particular strategy, while others promote and encourage authors in a different direction.
While I don't know the answer to my question, I do know where to find the answer. With these types of questions, I've always found it best to turn to experienced experts. When I use "expert," I'm not thinking of someone with a one-time success but someone with years of experience and multiple success stories with many different types of books and authors.
Raleigh R. Pinskey has been promoting books and authors for over 30 years. Her list of authors and projects reads like a whos who of publishing. She promoted the first Chicken Soup for the Soul book and regularly speaks at large conferences on book promotion strategy. More than the experience of working with others, Raleigh has her own success story in this area. Her book, 101 Ways to Promote Yourself, has sold over 100,000 copies.
Next Wednesday, September 22nd, you can hear my interview with Raleigh--and even enter into this process asking your own question. The telewebcast is free. If you can't attend at the exact time, please go ahead and sign up because it will be recorded. Everyone who signs up will receive the replay information. You can sign up at: www.bestbookpromo.com If you don't have a question, that's OK. Just put "no question" when you sign up.
At the confirmation/ thank you page, you will be able to immediately download a free special report: Conquering the Fear of Promotinig Yourself, Taking the Bull by the Horns by Raleigh R. Pinskey. The special report is loaded with advice and wisdom.
Sign up now for this event and I look forward to speaking with you soon on this call.
Labels: book promotion, Raleigh R. Pinskey, teleseminars