Where Do Readers Get Books?
Whenever I discover information in this area, I'm always interested to read it carefully. The cover story of the December 1st issue of Publishers Weekly is called Looking At Who Buys What Where, examining book consumers with Bowker's PubTrack.
Which groups buys most of their books online? Generation Y (ages 18-28).
Notice which group purchased the majority of their books in the chain bookstore teens (ages 13 to 17). On the surface you would not think teenagers would primarily purchase their books in a chain bookstore but that's the data in this article.
While Publishers Weekly included the various statistics in their article, I was fascinated with the graphic illustrations. I've included the one below which relates to Boomers (ages 41 to 59) and Matures (60 and up):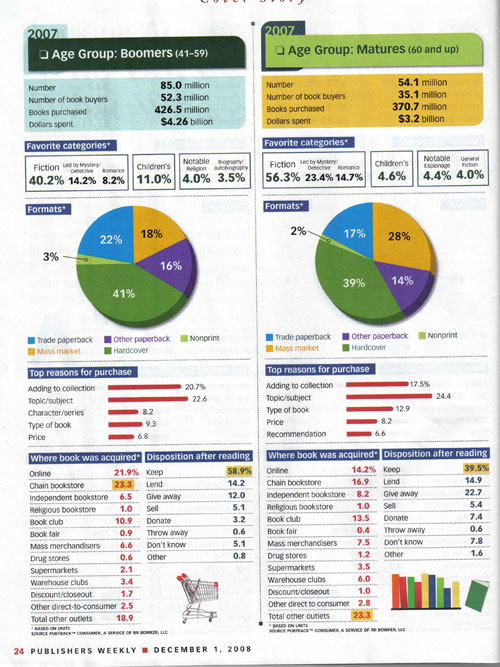 Let me call several of these statistics to your attention. These older readers had the highest numbers in the area of book clubs. While the overall numbers at book clubs have been declining in recent years, 13.5% of mature readers got their books from this source.
Last night, I was looking for the Writer's Digest Book Club, where I have purchased books on a consistent basis for over 20 years. I'm not a current member and was surprised to see the parent company has ended this book club since they are no longer accepting new members. What can you learn? They looked at their numbers and determined the profitability margin wasn't there so they ended that opportunity. Writer's Digest continues to publish a limited number of new titles but they have obviously cut this area of their business model.
What does this mean for you as a writer? You need to understand where your audience buys books then target those markets with your own visibility and publicity efforts. Also the message that I get from these statistics is diversity is more important than ever. You need to get into as many different channels or areas of the market as you can get. You can not depend on your publisher to cover all of these areas but as the author you need to actively be involved in as many different channels as you can. Why? You never know which channel or opportunity will lead to your break through moment. You can not count on one area but need to be diverse. Understand that more than half of the books sold are sold outside of the bookstore. It's why you need to be reading books like Beyond The Bookstore by Brian Jud--and not just reading it but studying it and using this book to stir opportunity.
The opportunities are there for you. Are you using them? If not, make a plan to move forward, then work your plan.
Labels: book buying decisions, book club, Publishers Weekly, readership