Be A Light in the Darkness
Have you listened to the news lately? It's pretty dismal and each day it seems to increase. I was interested to read my friend Michael Hyatt, the CEO of Thomas Nelson has made a self-imposed media fast. I'm convinced there is another way you can take with your work and your writing.
Last night I was listening to Alex Mandossian teach the opening class of the Teleseminar Secrets course. Alex was talking about how this year has been one of his best ever in terms of sales. It's not a story that you hear often but you need to be listening for these gems of encouragement. Cynthia Kersey at Unstoppable.net recently wrote, "Unstoppable people don't believe in failure. They see mistakes as opportunities to learn and develop new skills and strategies, not as failure. Failure implies waste, that nothing has been gained. On the contrary, people can gain much from every mistake and setback along the road to success. Mistakes and failures are inevitable and even essential; they are evidence of action --that you are doing something. The more mistakes you make, the greater your chance of succeeding. Failures indicate a willingness to experiment and take risks. Unstoppable people know that each failure brings them a step closer to achieving their dreams." How can you be unstoppable?
I've got several plans in motion for the future which on the surface seem impossible. Often little voices seem to shout inside that I should not be working on such a project. Instead of listening, I plow ahead into uncharted waters because like Cynthia Kersey says, "It's through adversity and failure that we ultimately win. being able to see failure as an opportunity for learning and improvement is critical to becoming unstoppable."
In a series of entries, I'm going to pull some information and insight from Guerrilla Publicity. I recently read the second edition of this book and it's filled with applicable information for writers and anyone interested in publishing. Many people would like to delegate the whole publicity area to someone else. They hire a "publicist" for a season or set an advertising budget. With a different mindset and attitude, you can reach more people with less of a financial investment.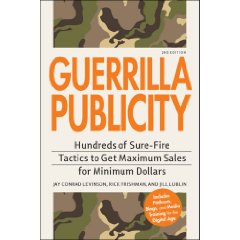 As the authors explain in the introduction of Guerrilla Publicity, "Most people don't know the value publicity adds to their businesses or how to implement it." You can learn the basic skill of relationship building from these authors who write, "Guerilla publicity works best for small- to mid-level businesses and provides the widest exposure at the lowest price--and it costs far less than advertising and can produce better results. Publicity lets you tell your story in greater depth than advertising, which is crucial for new and unique enterprises."
Each chapter of this book contains many insights and critical steps for anyone to build a presence in today's marketplace with the latest cost-effective techniques. Get this book and study each page because it will give you the edge that you need to stand out and succeed.
Watch for another entry about some of the information in this book--but in the meantime, be a light in the darkness. It will attract people to your message.
Labels: Alex Mandossian, ciity, Guerrilla Publicity, teleseminar, unstoppable