Blog Schmog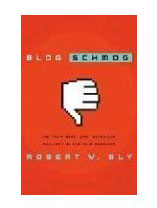 Over the holidays, I read a new book about blogging -- Blog Schmog, The Truth About What Blogs Can And Can't Do For Your Business by Robert W. Bly (Nelson Business). Some fervent bloggers will be ready to hang Bly in effigy because he takes a skeptical view about the merits and down sides of blogging. I found the viewpoint refreshing and valid.
For many years, I've known Bob Bly and appreciated his commitment to excellence--in his books and his magazine articles. Bob writes books as a "hobby" because his full-time work is copywriting. His best-known book is The Copywriter's Handbook and is excellent.
I've heard a variety of absolutes that writers will throw out to each other. For example, every writer should have a blog or every writer should have a website. The reality from my view is much more balanced. There is no absolute for every writer and it's the view that Bly takes in Blog Schmog. He used a term from blogger Rick Bruner that I had never heard where printed newsletters and trade journals are called "dead tree media." Here's the balance perspective from Bly in the early pages of Blog Schmog, "The best tactic is a mixed media approach. For instance, I am a regular contributor to dead-tree media including Writer's Digest and DM News. I am the author of more than sixty books published by such mainstream publishing houses as Prentice Hall and Amacon. But I also publish a blog, a free monthly e-zine, and downloadable free articles and special reports, all available on my Web site (www.bly.com)."
Here's the focus of Bly's well–crafted book, "This book is about the strategy of using blogs as a business-build and marketing tool, explaining how your time is best spent on strategy, not fooling around with programming or design."
I agree with Bly's skeptical perspective--even though I've blogged almost 600 times over the couple of years. I've seen writers devote large amounts of energy to their blog and zero energy toward appearing in print magazine articles or books. As an editor, I will tell you which has more credibility--the print magazine articles and books--not the online material. If you want to build credibility as a published author, you need to be devoting your writing energy toward building a body of work in print.
Over the next few entries about the Writing Life, I'm going to highlight a few principles from Blog Schmog in hopes it will help every writer gain a more balanced perspective.