Reading Was Her Passion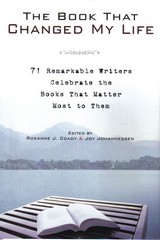 Several weeks ago, I wrote about a new release, The Book That Changed My Life, 71 Remarkable Writers Celebrate the Books that Matter Most to Them. If you missed this entry, I recommend you follow the link because I show how the book evolved and the cover changed as they were putting it together. I had not read the book until the last few days when I've been traveling. I'm always interested to learn how the printed page affects readers—and that is the focus of this particular book. The contributors were each writers who had appeared at R. J. Julia Booksellers in Madison, Connecticut. This book celebrates 15 years of business for this bookseller and Roxanne J. Coady asked these writers to tell a story about a book that changed their lives as a celebration—and reminder about the power of books to change lives.
The introduction explains the royalty for The Book That Changed My Life goes to buy new books for a program Coady began called Read to Grow,which provides books for parents to share with their children. The individual stories are fascinating from many unfamiliar authors to me. The writer's choice for a book was interesting—such as Senator Joseph Lieberman (remember it's a Connecticut bookstore) who selected the Bible or another Senator John McCain selected Ernest Hemingway's For Whom the Bell Tolls.
The story which I want to highlight in this entry isn't from one of those writers—but it's from the editor of the book in her introduction. Bookseller Roxanne J. Coady explains how from a young age reading was her passion. And when she opened R. J. Julia Booksellers, "my dream was that the store would be a place where words mattered, where people would gather, where writer could meet reader, and where our staff would work hard to put the right book in the right hand. Dreams can come true. R. J. Julia has now been welcoming readers and writes for sixteen years. Every day in the store we see how books change lives, in big ways and small, from the simple desire to spend a few quiet hours in a comfy chair, swept away by a story, to the profound realization that the reader is not alone in the world, that there is someone else like him or her, someone who has faced the same fears, the same confusions, the same grief, the same joys. Reading is a way to live more lives, to experience more worlds, to meet people we care about and want to know more about, to understand others and develop a compassion for what they confront and endure. It is a way to learn how to knit or build a house or solve an equation, a way to be moved to laughter and wonder and learn how to live."
I loved reading this slim volume. I wanted this entry to celebrate the passion of reading. Throughout the majority of today I will be in a board meeting with my colleagues at the American Society of Journalists and Authors as we discuss the society's business. Then early Sunday morning I take off toward home. It's been a good week on the road but I'm eager to be back in Arizona.